General Travel Information
Weather
Singapore is known for its hot and humid weather. The average daytime temperature is 31°C (88°F), dropping to around 24°C (75°F) in the evenings. Be equipped with an umbrella for the occasional rain.
Time Zone
Singapore is 8 hours ahead of Greenwich Mean Time (GMT).
Electricity
Singapore adopts an electrical voltage of 220-240 volts AC, and uses the "Type G" British BS-1363 type wall sockets. Please refer to this webpage for more information of the socket type.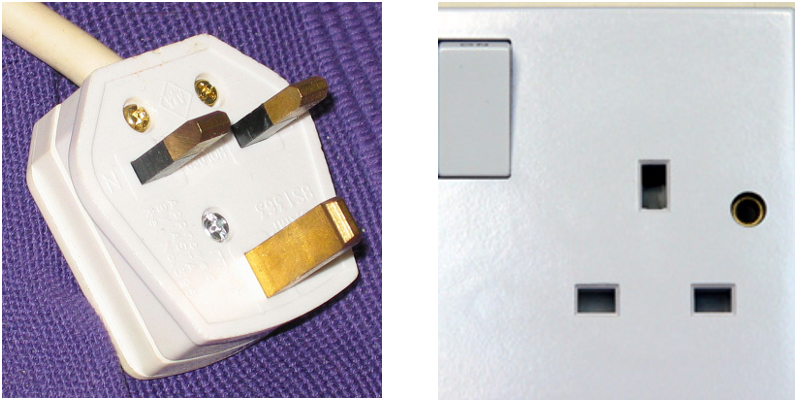 By Basic_earth_pin_operated_shutter_socket.jpg: Deucharman (talk).Original uploader was Deucharman at en.wikipediaderivative work: Maca eglarest (talk) - Basic_earth_pin_operated_shutter_socket.jpg, Public Domain, https://commons.wikimedia.org/w/index.php?curid=17251441
Water
Singapore's water is moderately soft and is safe to drink straight from the tap. Bottled water is conveniently available at supermarkets and stores in Hotels. You may wish to visit Singapore's PUB website to learn more.
Money
The currency used in Singapore is the Singapore Dollar (S$). Money changing services can be conveniently found at the Singapore Changi Airport as well as most shopping centers and hotels here.
Tax Refund Scheme
Do look out for the "Tax Refund" log at retailers in Singapore to enjoy tax-free shopping. Please check with the retailers for existing Terms & Conditions. You may also refer to the Tourist Refund Scheme website for the relevant information.
Calling
The international dialling code for Singapore is +(65). To call local numbers from your mobile phone with international roaming services, you may omit the +(65) code.
Smoking
Smoking is banned by law in certain areas in Singapore especially air-conditioned areas such as shopping centers and restaurants, as well as on public transports. A maximum fine of S$1,000 may be imposed on first-time offenders. For an updated list of banned areas, please refer to the National Environmental Agency website.
Visa Application & Requirement
Foreign visitors from most countries do not require a visa for entry into Singapore. For a list of countries that do require a visa, please refer to Singapore's Immigration & Checkpoint Authority (ICA) website. However, it is best to check with your local consular office for the latest information regarding your travel to Singapore. If you wish to apply for visa, please email your passport details and abstract reference number to secretariat@conference.eras.org.sg to request for Form V39A and the letter of invitation. Please refer to this URL to find out about the application process. https://www.ica.gov.sg/visitor/visitor_entryvisa
Getting Around Singapore
Transport
Obtained from the website of Singapore's Land Transport Authority (LTA) https://www.lta.gov.sg/content/ltagov/en/getting_around/public_transport/rail_network.html
It is very convenient to get around Singapore via various modes of transport. Commonly available are the Mass Rapid Transit (MRT), buses and taxicabs.
Typical flag down fare for taxicabs in Singapore is around $3.90, and may be subjected to a variety of surcharges. For MRT and bus travel, you may want to consider purchasing a Singapore Tourist Pass.
To travel from Changi International Airport to the conference site, please refer to this website for an estimation of the travel time and fares. You may also use this website to estimate the public transport fares from your hotel to the conference site (using the route given by Google Maps).
Taxi / Cab

Public Buses

Public rail – Mass Rapid Transit (MRT)

You can get a taxi / cab by:

Hailing one along the road
Queuing at a taxi stand
Making a telephone booking
All taxis are metered, charge extra for late night trips and no tips are expected. Cash is preferred and there is a small fee for card payment.
Using a mobile app (Grab, Zig, Gojek)

Buses complement the rail system and bring commuters everywhere.

Useful information:

Bus numbers 179 and 199 shuttle between NTU and Boon Lay bus interchange (near Boon Lay MRT station)
More information on public buses can be found here.

The airport and most major attractions in Singapore are accessible by subway. The subway system is called the Mass Rapid Transit (MRT). Trains are clean, safe and arrive frequently. Many subway stops offer sheltered access to malls, which is convenient when it rains. Eating, drinking (including water) or smoking is prohibited on trains and in subway stations.

Useful information:

The nearest MRT station to NTU is Boon Lay MRT station
More information on the MRT system can be found here.
Other modes of transport:
Walking
The infrastructure in Singapore is highly conducive to walking, with many pavements and road crossings. High temperatures and humidity make walking outside for an extended period of time very uncomfortable. Please bring along a water supply if you plan to brave the heat.

Cycling: https://www.lta.gov.sg/content/ltagov/en/getting_around/active_mobility/walking_cycling_infrastructure/cycling.html


Places to Visit
Singapore offers many interesting places for tourists to explore. Some sites that are close to National Institute of Education are:
There are also some sites closer to downtown Singapore that visitors might want to check out:
For various places to visit in Singapore, you can refer to the Singapore Tourism Board webpage at http://www.visitsingapore.com/en/ for further information.